PRODUCT RECALL OR60
14.09.2023
PRODUCT RECALL OR60
Dear Customer,
KRONTEC monitors its products over lifetime with a constant quality control. New findings from long-term use have now prompted us to make a change to our silencer type OR60.
Please follow the steps described in the link below for the further procedure.
Climate Partner
28.07.2023
KRONTEC - PARTNER IN CLIMATE ACTION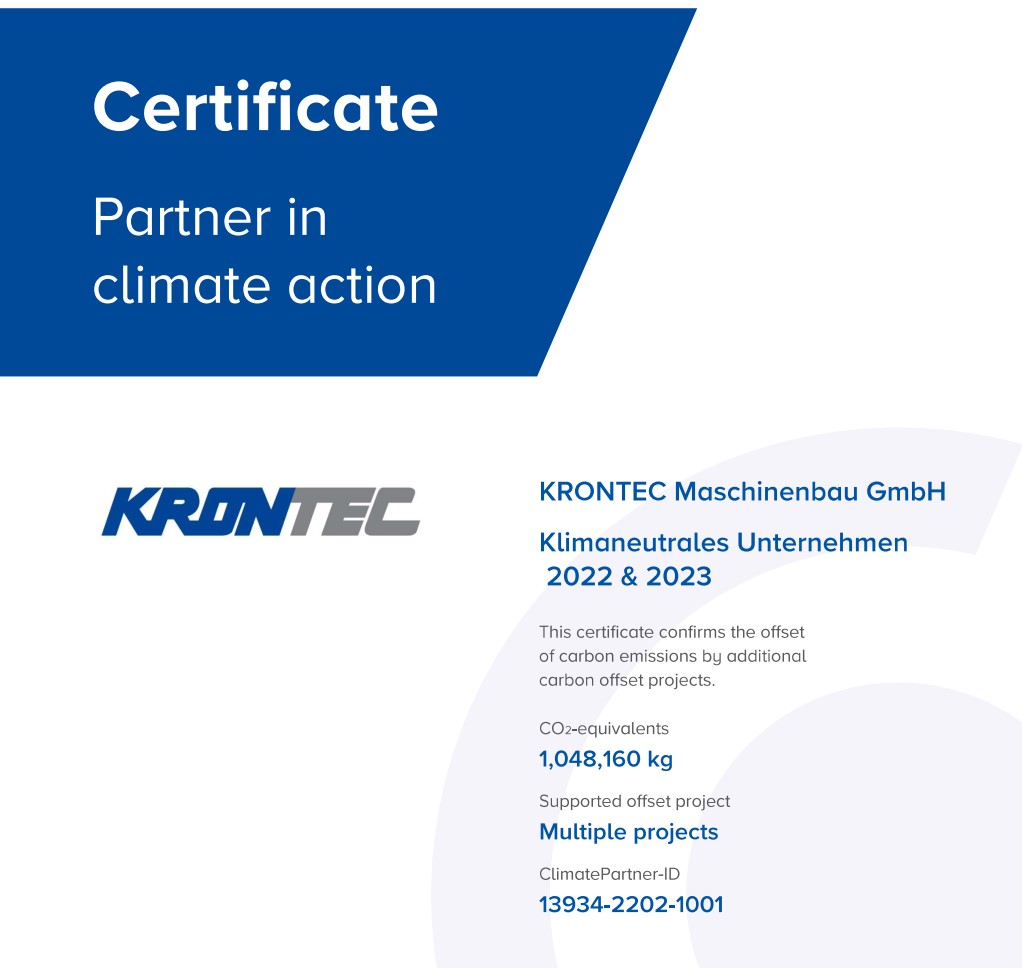 "Use the following URL for more information about the offset and the supported carbon offset project: https://fpm.climatepartner.com/tracking/13934-2202-1001/"
Porsche 992GT3 R Accessories
10.03.23
Finally, we can introduce our Krontec equipment for the new
Porsche 992 GT3R 2023
-Carlifter (+ adapter ring LL-20CC)
-Safeties
-Skates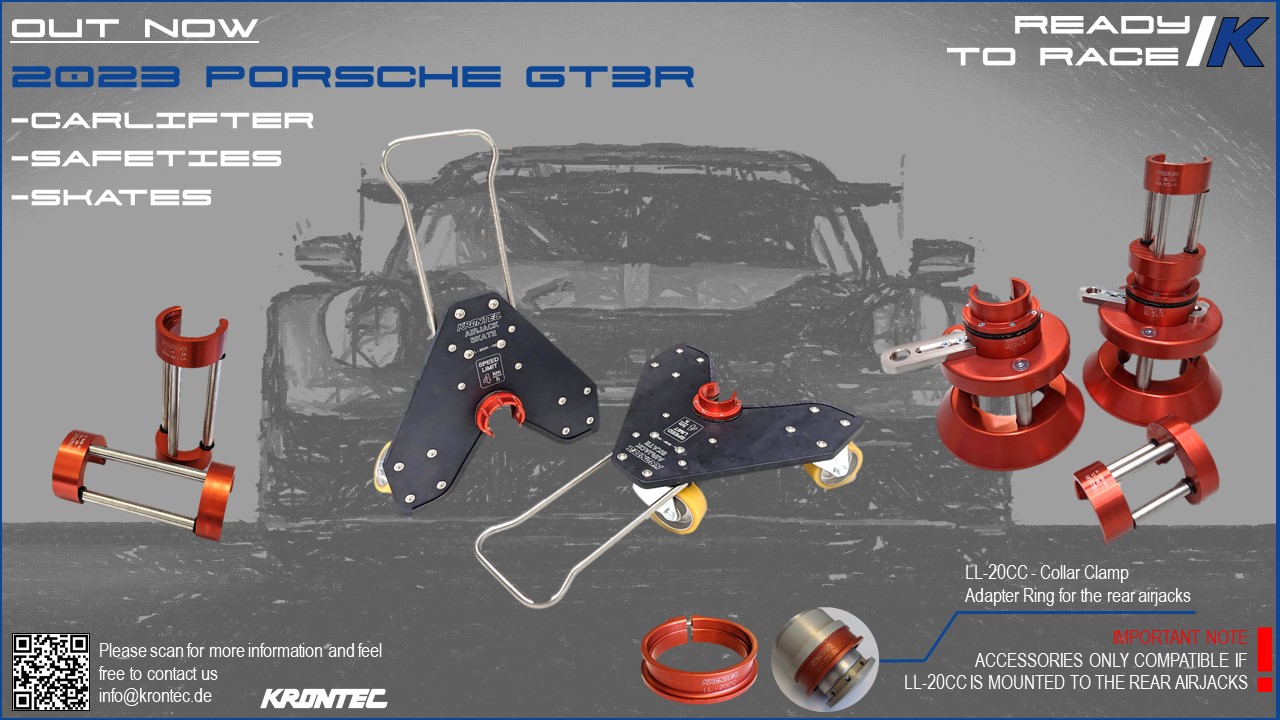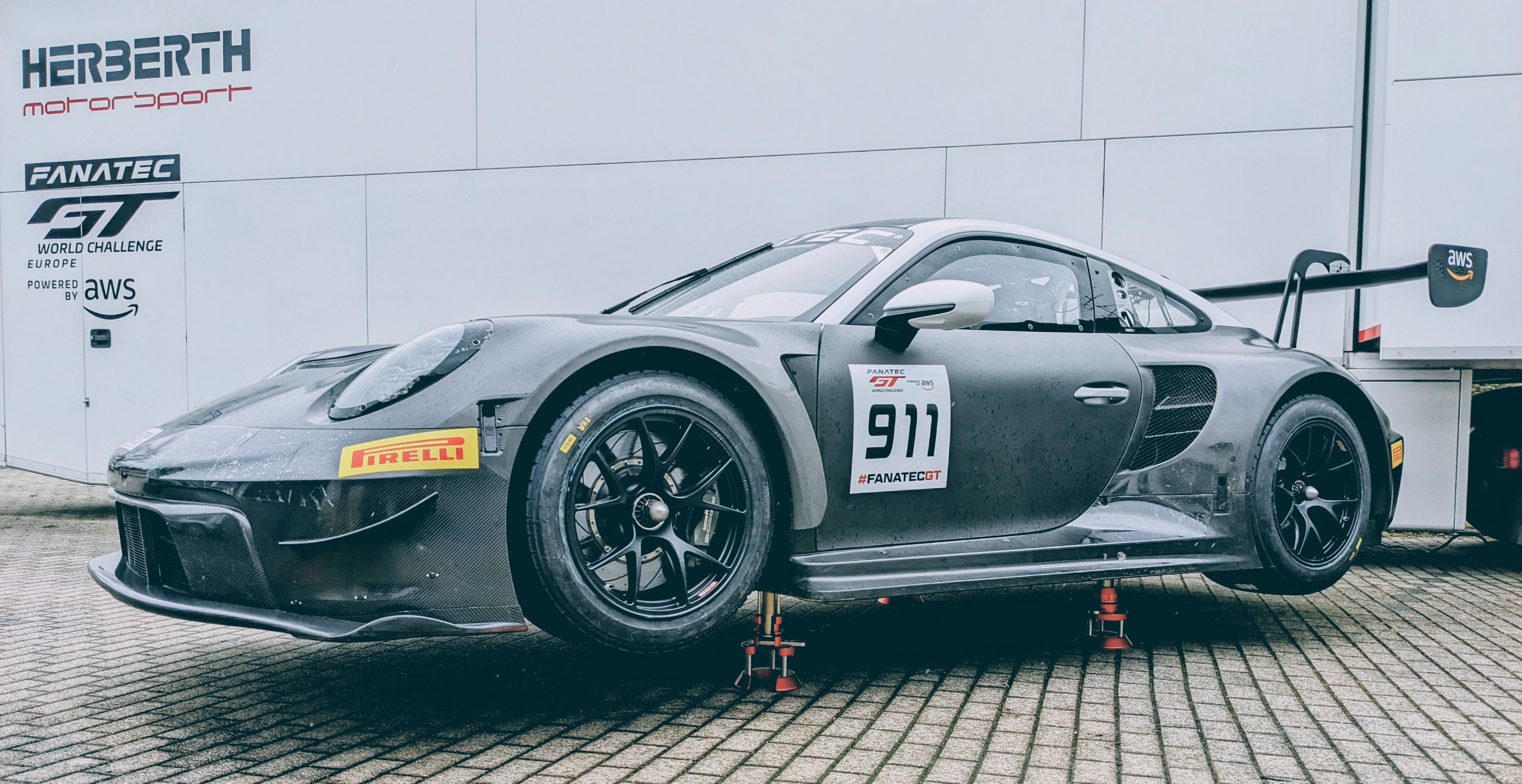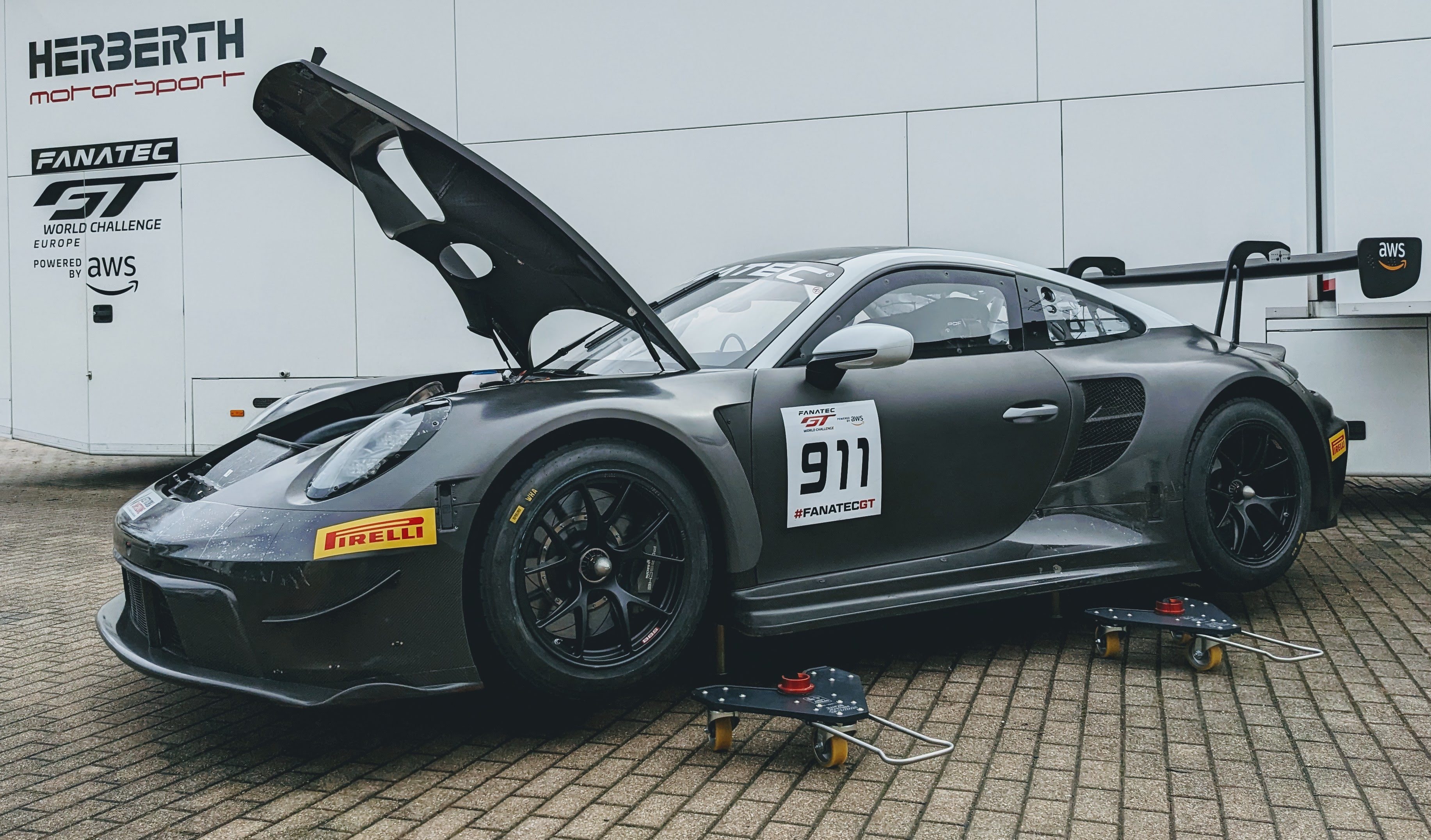 Please have a look at our customer drawings for further informations on how to use the equipment.
To get there, please scan the QR Code or click the link below.
992 ACCESSORIES - CUSTOMER DRAWINGS
Note that it is mandatory to install the adapter ring LL-20CC prior using our equipment.
In case you have any further questions, feel free to contact us!
Krontec Skates LL-20SK // LL-30SK
07.03.2023
!OUT NOW KRONTEC SKATES!
... to complete your airjack equipment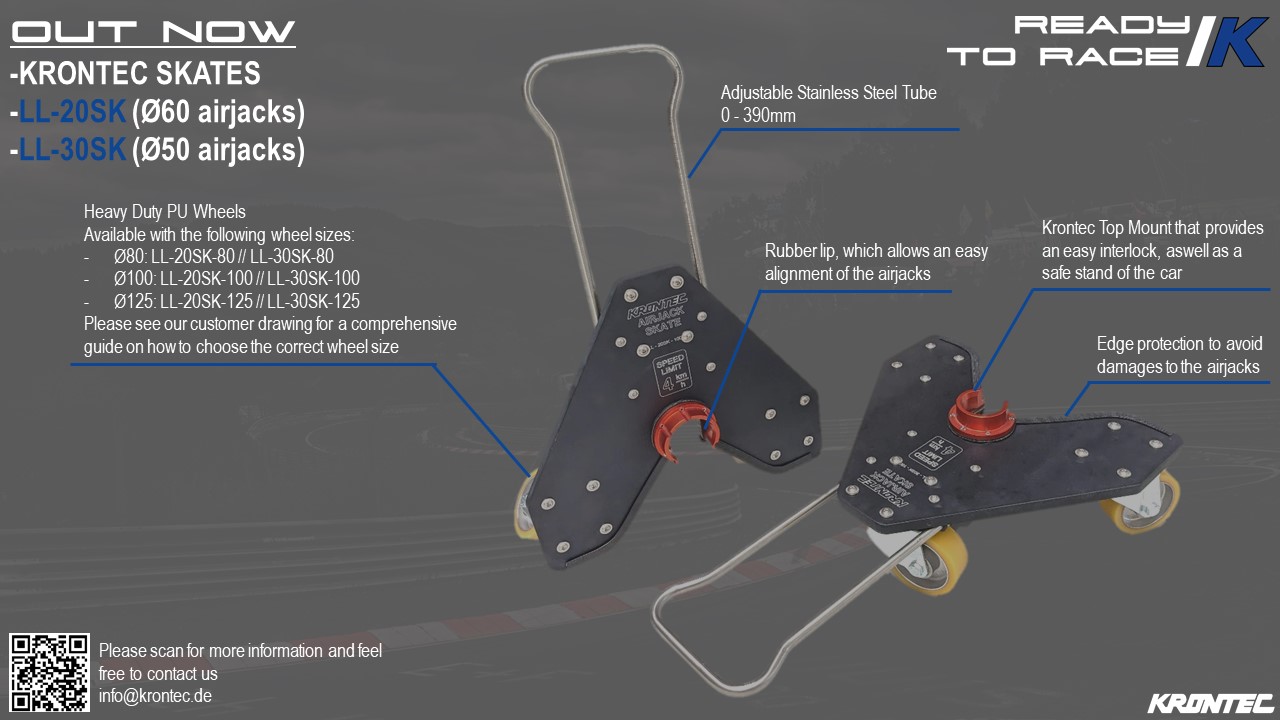 Skates with an OEM fit that provide an easy interlock with the airjacks, aswell as a safe stand of the car. No more damaged airjacks and piston tubes due to 3rd party top mounts or sharp edges on the skates. Available for both airjacks (Ø50 & Ø60) and with 3 different wheel sizes to perfectly suit your application and your race car!
Please have a look at our customer drawings for a comprehensive guide on how to choose the correct partnumber and wheel size.
To get there, please scan the QR Code on the right or click the link below.
In case you have any further questions, feel free to contact us!
info@krontec.de
...for a hunters life
15.06.2021
Krontec enters a completley new market with our third product in 2021.
Our silencers OR-50 and OR-60 for hunting rifles! Due to its titanium inner core with a 10-year warranty, the 100% climate-neutral production and the best values achieved on the shooter's ear according to the DEVA test and its eccentric design it is unique on the market. But our silencer offers so much more. You want to experience more about this product? Then check our product page "silencer" or inform yourself directly at Frankonia - the largest dealer for hunting accessories in Germany which exclusively distributes our silencers.

For any further questions please contact your local Frankonia-dealer or watch the product videos on the following websites.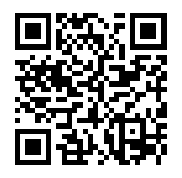 NEW 2.0: Krontec - Locking Mechanism
26.05.2021
The expansion and optimization of our refueling coupling system is our daily challenge - to offer our customers the best possible application. Therefore, in 2021 we have developed not only the flow meter system (see previous post) but also the "Locking Mechanism".
The "Fingerlock" is activated by just gripping two small handles. The force to keep the system engaged once locked is reduced by nearly 98% and it still retains the self-disconnecting dead man principle of the system. You can activate the locking before connecting and you'll get proper feedback on your fingertips about the state of engaging. To release the system, just reduce the load on your fingertips, The coupling will the release itself and you guide it off until you're clear of chassis as you normally would.The system is a retrofit solution and available for both systems RFC88/RFC89
More information can be found in our manual RFC-FM-20.
NEW: Krontec Flowmeter
05.02.2021
Our new KRONTEC RFC-FM20 flow meter system is an addition to our race proven refueling components.
This kit allows you to have a close eye to the amount fueled by using state of the art ultra sonic flow sensors. The tracked data is visualized on the display which can be easily added to your current refueling coupler but can also be displayed on any other device via WIFI. Our flow meter allows a proper gain in race reliability as you can rely on solid flow rate data rather than measuring fueling time. Another benefit is the possibilty to optimize your pit stop strategy, to train your refueling process based on data and to get a clear visualization and control of the flow rate during the refueling.
Please note, our flow meter is the perfect adaption to our endurance refueling coupling RFC-89-K-LM.
P.S. Adaptation to current systems is of course possible!
Our air jacks are climate neutral
19.02.2020
Climate change is currently one of the biggest challenges. As a company we want to take responsibility and make a concrete contribution to climate protection. Within the following steps we can now guarantee climate neutrality for our air jacks:
We record the relevant CO2 emissions sources arising anually. Into account are being taken for example the materials used, the production process and logistics. In addition, we also consider our general business activities, such as administration or our business trips.
Climate protection projects save CO2 - by supporting one of these projects, we are able to offset the CO2 emissions caused by our product. We have committed to forest protection "April Salumei" in Papua New Guinea, more information can be found at www.climatepartner.com/13934-2001-1001.
All air jacks are climate-neutral and labeled "climate-neutral" at no additional cost s: the label offers full transparency: with our ID number 13934-2001-1001 you can see how much CO2 has been offset yet.
PMW Expo 2019
12.09.2019
We are excited to return at the Professional Motorsport World Expo in Cologne this year. The PMW is an international trade fair for motorsport and therefore the perfect meeting place for professionals, teams and drivers from all areas of motorsport. Our goal is to get in touch with our current and potential customers, to bring our products closer together and to share new technologies, innovations and trends to further develop the motorsport industry.

The Professional MotorSport World Expo 2019 will take place on 3 days from Wednesday, 13th November to Friday, 15th November 2019.



You will find our booth in hall 10.1, booth no. 6000.







To find out more about the PMW fair click here.